Handbag Clinic London - Colchester
Handbag Clinic Colchester - Fenwick
Ground Floor
Fenwick Colchester
152 High St
Colchester
CO1 1PN
Opening Hours
Monday - 9am - 5:30pm
Tuesday - 9am - 5:30pm
Wednesday - 9am - 5:30pm
Thursday - 9am - 5:30pm
Friday - 9am - 5:30pm
Saturday - 9am - 5:30pm
Sunday - 10:30am - 4:30pm
Our Concession can be found on the Ground Floor - Fenwick Colchester. We will be offering our restoration services and selling an exclusive range of preowned designer handbags and accessories. Buying and Authenticate services will be facilitated via our HQ.
Upon completion of an online quote, clients can visit us in store to drop items and discuss the proposed work with one of our specialists.
Fenwick Concierge Service
Our Fenwick Concession stock isn't available on our website. However, if you can't visit this location but see an item you want to purchase on our Instagram please email: colchesterfenwick@concierge.co.uk and their concierge team will assist you in purchasing the item.
We are a friendly and authoritative leader in the growing luxury pre-loved space, open to anyone anywhere for advice, authentication, repairs, buying, and selling. Our promise to our customers, and the industry we operate in, is to prolong the life-cycle of the very best of handbags.
Online Enquiries
Handbag Restoration - Get a Quote
Sell Your Handbag - Get a Quote
All Customer Service queries can be directed to us via email.
For an update on your item that is currently booked in for repair: updates@handbagclinic.co.uk
If you have an item for sale with us please email buymybag@handbagclinic.co.uk
Services in Store
Shop our range of Pre-Owned Handbags, drop your bags in for cleaning & repair or sell your unwanted bags to us today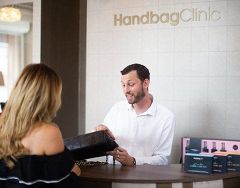 Restore Handbags
We offer our full range of Handbag Cleaning & Restoration services in ours Leeds store. Bring your bag in for a one on one consultation with an expert where we will assess your bag and provide you with all available options to restore your bag to its former glory.
Get A Quote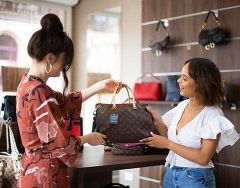 Buy Handbags
Our store in Leeds displays a great range of Pre-Owned Designer bags all available to buy at amazing discounts. Browse brands such as Louis Vuitton, Mulberry, Chanel, Hermes, Celine and more; all available in Handbag Clinic Leeds.
Shop Now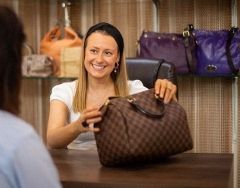 Sell Handbags
Bring your unused handbags into store and we'll buy them from you. We pay high commissions, all based on the price we're going to sell the bag for. We buy a wide range of brands and will clean and/or restore the bag prior to selling it so you earn more money when we sell it.
Sell Now